Truly delicious
cured meat
in Fukushima.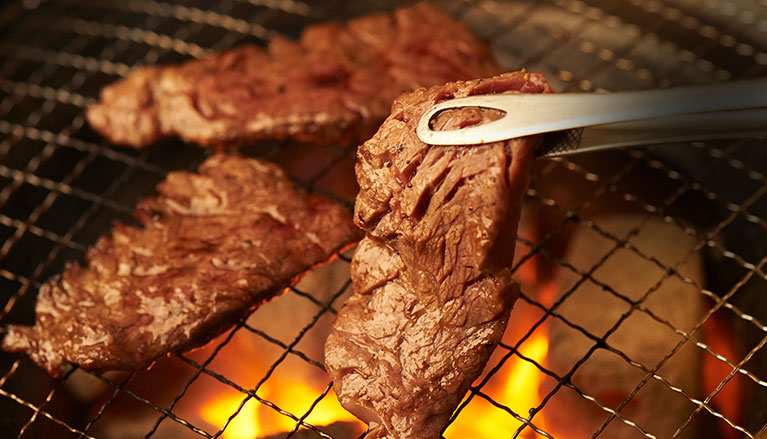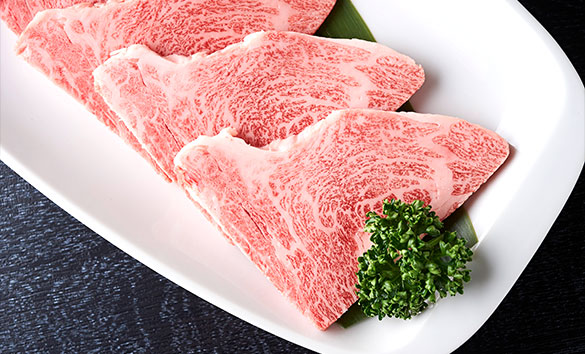 We hope you will have a fantastic time enjoying quality Fukushima beef at Charcoal Barbecue Omutson. We are a barbecue restaurant in the city of Fukushima, situated near Fukushima Station. We offer Fukushima beef from Fukushima prefecture. The rich taste and tenderness of the meat are such that it will leave all meat lovers in awe. The meat is expertly cured by the restaurant's owner. Besides meat, we also offer a wide variety of dishes for any occasions, such as finger food that goes well with alcoholic beverages, as well as course menus. Please come and relax in the relaxed atmosphere of our restaurant with a glass of our hand-picked sakes, selected by the restaurant's owner.
To get started,
try our course menu.
A luxurious course menu that includes our popular premium salt-grilled beef tongue, premium spare ribs, and premium loin. With an additional 220 yen, you can enjoy our wrapped vegetables and an assortment of kimchi. We recommend this course menu to guests who have never previously dined with us.
* All prices include tax.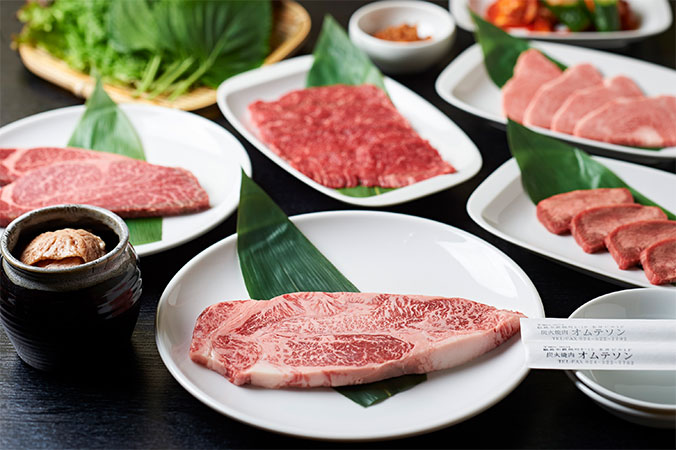 5,000

yen

[

All six items

]
・Premium salt-grilled
tongue
・Premium spare ribs
・Premium loin
・Pickled spare ribs
・Tenderloin
・Sirloin
4,000

yen

[

All six items

]
・Premium salt-grilled
tongue
・Premium spare ribs
・Premium loin
・Offal
・Pickled spare ribs
・Sirloin
3,000

yen

[

All six items

]
・Premium salt-grilled
tongue
・spare ribs
・loin
・Offal
・Pickled spare ribs
・Pork shoulder loin
Free Drink
90 minitue
1,500yen
120 minitue
2,000yen
・Draft beer
・Shochu
・Chuhai & sour
・Soft drink
・Makkolli
(Korean rice wine)
・Whiskey
・Glass of wine
(red or white)
・Cocktail
* Please kindly finish your drink before ordering the next one.
* Last order will be taken 15 minutes before closing.
* All prices include tax.
Give our
a la carte items

a try.
Premium salt-grilled tongue

[

1,870

yen

]
Do try our cured beef tongue with salt. We hope you will enjoy its pleasant mouthfeel, soft texture, and deliciousness that every bite brings.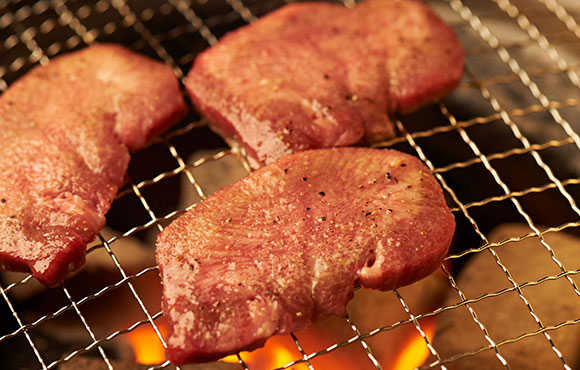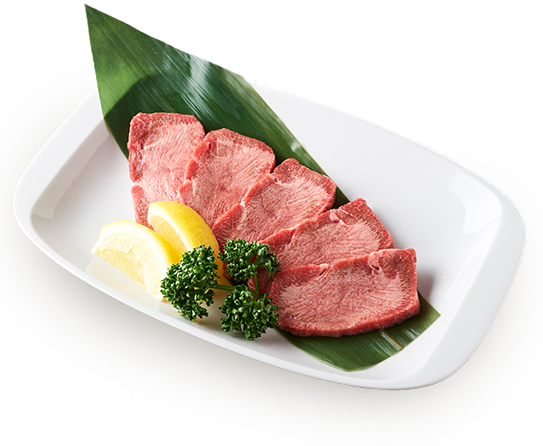 We have imported nothing but premium beef with the hope that all our guests will be able to enjoy the superior taste of the dry-aged meat. Just what exactly can one make of this taste of beef - which we are all already so familiar with? This is a task that's going to put the chef's skill to test.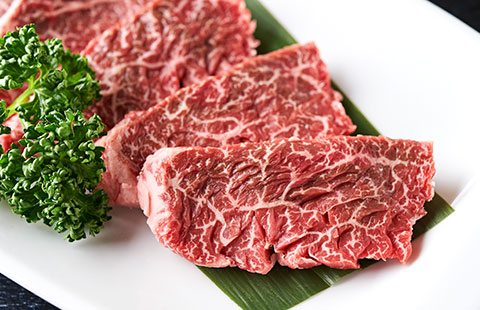 Premium skirt steak

[

2,200

yen

]
When you come to Omutson, be sure to give our premium skirt steak a try. Enjoy the soft texture and fat of the meat. All meat lovers out there will fall right in love with this taste that's been made even better with the aging process.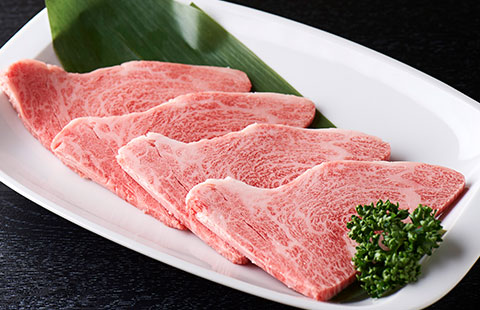 Premium spare ribs

[

2,090

yen

]
Quality spare ribs with fat. Dip the meat nice and deep with our homemade sauce and chow it down with rice. Take a deep bite of the meat and wait for the oral symphony to play in your mouth.
Give our Fukushima sake a try as well.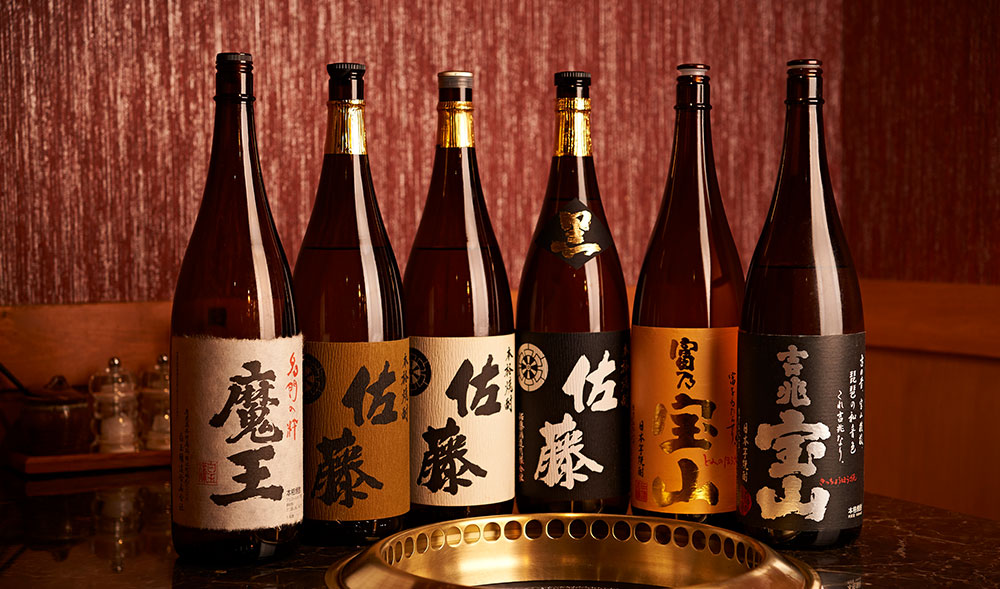 In addition to sake, shochu also goes perfectly well with our barbecue. Enjoy Ma-ou, Sato and all other famous alcohol we have selected and gathered from across the country. We also offer shochu from Fukushima, so please feel free to visit us not only during meal time, but also for sightseeing.
Inside Omutson
Enjoy yourself in the relaxed, calming atmosphere that Omutson has to offer - most suitable for a meal with those you hold dearly. Omutson is available for everyday occasions as well, so definitely come with your friends, family members, or with your colleagues who might be looking for a place to drink after work. We are more than happy to have tables and seats set up for you, and we are open to groups as well.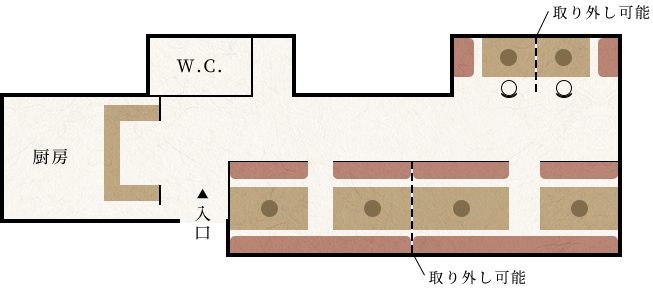 SHOP INFORMATION
shop name

Charcoal Barbecue Omutson
Inquiry
Address

1F Nagai-Building, 5-15 Okitamacho, Fukushima City,Fukushima 960-8034
Access

7 minutes on foot from JR and other lines "Fukushima Station" East Exit
Business Hours

17:30~22:30(L.O.21:30)
Close

Monday
Seating Capacity

26seats
Credit Cards

accept(VISA,Master,AMEX,JCB,Diners)
We do not accept electronic money